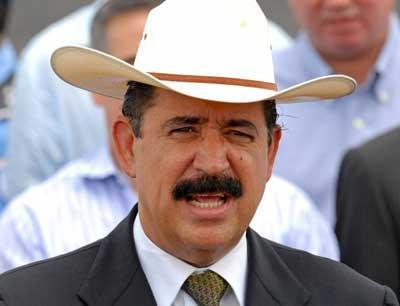 If I had to describe our current president, Manuel Zelaya, I would say he is an outgoing person, with a rural style. He is a man from the country, or wants to appear as such. He loves to wear Texan hat and boots, even with suit and tie. He loves to hear and sing the rural Mexican folk songs known as rancheras. His mustache is part of that ranchero outlook. That's why Hugo Chavez calls him "Cowboy Commander". His style of government is populist and authoritarian.
I compare Manuel Zelaya to George W. Bush in his relaxed demeanor. They can do or say the dumbest things, and you'll always find people who love them. But unlike Bush, Zelaya is a self-styled leftist figure. His recent meeting with Fidel Castro consecrated him as part of the Latin American Left, with personalities like Hugo Chavez, Evo Morales, Rafael Correa and Daniel Ortega.
But Zelaya's political party, the Liberal Party, is not so "liberal" after all. In the times of Cold War it played as a key ally of the U.S., back when there was another rural looking president: Roberto Suazo Cordova. That was in the eighties. In that time, there was an incipient democracy, and the militaries held much of the political de facto power. The U.S. ambassador from that time, John Negroponte, was known as the "proconsul from the Empire". The human rights situation was delicate.
The objectives of political and economical development of the Honduran State were subordinated to the objectives of "national security" of the U.S.. Manuel Zelaya's father, who had the same name as his son, collaborated with the militaries in a massacre of unsubordinated civilians at the place known as "Los Horcones".
But things change, and with the new populists airs in Latin America, Zelaya joins the group. His rhetoric is even anti-American at times, but as he uses covered references and diplomatic language, he can always deny he is anti-American.
He rose to power with the promise of dropping the local oil prices, and he spent the first two years of government in a failed public tender project. The irony is that oil international prices began to drop due to the current economic recession in the U.S., and not to his presidential efforts. I consider this as big failure of his government, but people here rarely notice that.
Zelaya has everybody entertained with his controversial measures and sayings in a weekly basis. When he decided to incorporate Honduras to ALBA, the alternative of Hugo Chavez to the free trade scheme proposed by the U.S., he lifted a lot of opposition.
The same happened when he recently raised the minimum wage in a disproportionate way. He didn't take heed of the warnings of coming unemployment.
Zelaya is not much given to dialogue. He prefers to polarize public opinion, and to impose his policies with weak populist arguments.
I think this government is a disaster, and wait anxiously the end of this administration. But it is rumored he wants to stay in power, and in order to do that he plans to reform the present Constitution through a referendum. If that's true, I don't think he'll get away with it. It's just another one of his silly ideas destined to failure.