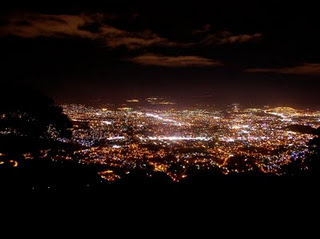 Tegucigalpa at Night
For a quick response it is said that Tegucigalpa is the capital city of Honduras.
However, it is more correct to say that the capital of Honduras is formed by the cities of Tegucigalpa and Comayagüela. Both cities compose the Central District. These cities are divided by the Choluteca River.
Both cities are in the department of Francisco Morazan. Honduras is divided into 18 departments. Francisco Morazan is the name of the most important national hero of Honduras. Previously the department had the name of Tegucigalpa, the same name as the capital, and Comayagüela enjoyed administrative autonomy, having its own mayor.
Tegucigalpa emerged as a mining town, although this activity is no longer practiced. The first Comayagüela settlers were indigenous of Nahuatl origin, who were brought by Spanish conquerors to work in the mines of Tegucigalpa. Tegucigalpa's historic center is characterized by its narrow streets. Comayagüela is known for its street markets, which are in a somewhat precarious situation. Municipal authorities traditionally dedicate more resources and attention to Tegucigalpa than Comayagüela.